PUBLIC SPEAKING
---
When you want your event to be a success, you need to be able to rely on your speaker to deliver a message that will inspire, entertain and create positive change. Contact Teresa Morin to speak at your church event, meeting, conference, etc.
PUBLIC SPEAKING
---
Are you looking for a dynamic speaker that will make your next event a stunning success? Do you want entertaining and educational training that will leave your attendees raving long after the event? We've got you covered. Teresa Morin speaks in "Overcoming Adversities" that all is possible with the power of God. Read her testimony - "Beauty from Ashes."
When you hire Teresa Morin for your conference, company, or church event, you don't just get a bland, canned presentation. We customize every message specifically for your audience to achieve your desired outcomes. We get to know your organization and your attendees so that the message creates long-lasting results. Only material that is relevant to your audience is considered.
Teresa's straight-from-the-heart delivery, passion, and energy inspire audiences to transcend their real and perceived limitations… and step into their God-given potential. Teresa delivers the right message for your unique audience with charisma, warmth, and humor.
As a premier Keynote Speaker and leading authority, Teresa is a sought-after presenter who translates theory into bottom-line results for her clients. Rest assured, your people will love it. And they will be inspired to achieve more for themselves, your organization, and your clients.
Our speaking schedule fills quickly, so we encourage you to contact us so we can set up a 15-minute call to determine if we are a good fit for each other.
Refined by Fire: Overcoming Adversity Inspirational Christian Speaker, Philippians 4:13 "13 I can do all things through Christ[a] who strengthens me." I was healed of 10 physical diseases from a broken heart. She endured sexual and other abuse that shut her down and she was mislabeled with a learning disability. Because of her tenacity, she wanted to prove the doctors wrong and did.
Her mission is to teach others how to overcome adversities to become victorious in Christ - by sharing her story and experiences of how the Lord healed her of 10 diseases. Her heart is to set people free from past hurts of the past to cripple them in the present. Reach your goal and purpose in Christ to set others free. Her testimony inspires the Body of Christ to ignite others who desire the freedom to find it. After Teresa teaches, she desires to lay hands on the broken to set them free. Teresa Morin can relate to the hurting. She endured sexual, emotional, and physical abuse that shut her down. She was mislabeled with a learning disability. Because of her tenacity, she proved to the doctors the power of God that heals her.
Hearing her story, you will laugh and cry but be encouraged to trust the Lord during trials, tribulations, adversities, and many victories as she overcomes adversities. Give me a call to hear this overcoming inspirational Christian speaker.
She does 1 to 3-day conferences and is an exceptional speaker at women's retreats, conferences, and speakers online through Facebook.
Read her testimony - "Beauty from Ashes."
Inspiration and Motivation
---
Would you like to maximize your motivation and effectiveness? If so, read on. In this invigorating program, you and your team will be inspired to achieve more. Learn how to delete limiting beliefs that hold you back in life! Teresa Morin will help you build your skills for success and unleash your unlimited potential:
Power Motivators!

What to Do When You Don't Want to Do Anything

Overcoming Adversities – testimony to victory at churches, women's retreats, conferences, etc.
6 Proven Ways

to Increase Your Effectiveness

Easy Ways

to Deal with Difficult People - married to a narcissistic person?

Freedom from bondage? she offers a one to three-day deliverance seminar
Need healing? She has power through the holy spirit.
Teresa Morin Shares The Gospel with Other Countries
Teresa Morin traveled to several countries to share the gospel, 3-day conferences in healing and deliverance, her story, and pastor's training. Areas of the World she has traveled:
Honduras
Philippines
Quebec, Canada
Mexico
Some of the Caribbean Islands (Jamaica, Bahamas, and Barbados)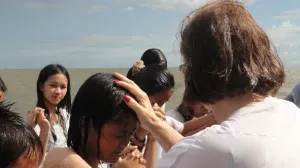 Download your FREE GIFT NOW!
Check Your Email for Your FREE eBook
---
Jump Off The Merry-Go-Round:
Five proven steps to conquer unwanted thoughts of worry and shame that drive anxiety and depression to fulfill your potential
by Teresa Morin
This eBook is one of Teresa's most popular publications, available as a free download. Inside this ebook, you will learn:
Five Biblical Keys to Renew Your Mind with God's Truth: Inspire, Equip, & Empower You to Step In Your God-Given Kingdom Destiny:
Crush fear, worry, and anxious thoughts
Learn to discern the enemy's lies about you
Expose the hidden false core beliefs controlling your emotions and habits
Conquer past regrets, shame, and self-unforgiveness

Walk out of feeling defective or less than others and step into your God-given purpose
DOWNLOAD NOW
Cynthia Keller
"When I came to the Anxious2Victorious 5-step 1-on-1, I was a mess - full of anxiety, suffered from depression, and driven to live up to other people's expectations. Teresa was so living and patient with me. I implemented her program and took charge of my thoughts.
Today, I have peace and learned to become my true self. No more anxiety! I cannot thank Teresa enough for the ways she cared about me."
Donna Gorman
"Before I signed up for Teresa Morin's 1-on-1 online class, I regularly suffered from anxiety, decision fatigue, overthinking, and workload paralysis, which would keep me up at night. I had to take extended leave from work. Teresa cared for me and helped me understand why I suffered from anxiety. Once I implemented her steps, I was able to overcome the self-critic voices in my head. I returned to work full of joy, peace, and new confidence, no longer doubting my decisions."
Kathy Richardson
"I suffered from anxiety, Stress, and Multiple Chemical Sensitivity that affected my career and life in every area. I couldn't go a day without a reaction. When I attended Teresa's teachings, I started to understand the open door to my issues. After going through her classes, I could start living again. I now have no more anxiety and panic attacks, chronic pain, reactions to my environment, and no more cloudy thinking and depression. I got my life back and returned to work with peace of mind."
Avoid Burning Out By Finding the Right Balance
I am sure you have heard the saying, 'you cannot pour from an empty cup.' This is why you need to learn to take care of yourself. Keeping yourself motivated...
R E A D
Reward Accomplishments if you Break your Habits
Life becomes more worth living when you know that for every good thing that you did, a reward is bound to come your way. By this time, you already know...
R E A D
How to Plan and Achieve Your Goals
So now you have the goal, you need the plan. To do this, look at where you are now and then look at all the things you would need to build the life you are picturing.
R E A D